To Overseas Customers
Please read this page before you place your orders with us.
● ● ●
Delivery 
Sorry! We do not ship internationally.
For delivery, please use the forwarding service agent (tenso.com) who will arrange overseas shipment for you.
Tenso.com is a forwarding agent. To use their service, please register at Tenso.com.
Here's the procedure from your order placement to the international shipping :

STEP1  Register at tenso.com and get your Japanese shipping address.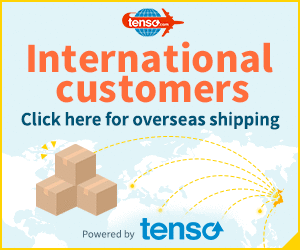 Register your free account at tenso.com and get a special shipping address.
STEP2  Shop on Bi Rod Store and settle your payment.
Enter your tenso address you got in STEP 1 as your shipping address and settle your payment.
STEP3  We'll ship your items to the tenso.com address.
Delivery is processed after we confirm your payment.
STEP4  Tenso.com ships your package overseas.
When your items are delivered to the tenso warehouse, settle the payment with tenso for the handling and international shipping fees.
● ● ●
Payment
Only CREDIT CARD PAYMENT is accepted.
Visa,Master,American Express,JCB,Diners Club
Please DO NOT choose "Cash" or "Collect on Delivery (COD)" or "Credit Card Payment on Delivery" for payment. We accept credit card payment only.
Please do not choose any of "代金引換" or "コンビニ前払い" or "銀行振込".
After your credit card payment is confirmed, your purchase will be transferred to your tenso address.
Price does not include VAT and custom fees.
Customers are responsible for the payment of import taxes, customs duties and any additional charges for customs clearance.
● ● ●
Shipping fee
Bi Rod is a long product and the package becomes large.
Shipping fee is determined by whichever is greater, volumetric weight or actual weight and volumetric weight is heavier for Bi Rod.
It is recommended that you contact tenso.com for a shipping quote before you place your order.
● ● ●
Returns
As a general rule, we do not accept any returns or exchanges.
Exceptions will only be considered if your purchase is defective.
We are not responsible for returning costs to Japan with any returned items for any reasons such as undeliverable address, unpaid duties, taxes and customs fees.

 If you have any questions about the services from tenso.com, please contact them directly.